First, THANK YOU ALL for commenting on my last card, totally made my day! I was totally unhappy with that card. SO, my sister's friend requested a handmade birthday card, the only thing she wanted was BRIGHT colors! you heard me, bright!! which is something I didnt play with for a while, I have been wanting to make a card using the beautiful Hawaiin Shores, so I thought to myself, here is a chance to try something different, if it turned out ok, well and fine, if not, you can always make another one!. Guess what? I am totally happy with the result, I ENJOYED making this card, in fact I am going to say goodbye to "vintage" for a while, coz I had lots of fun playing with happy fun colors and isn't that cupcake the most adorable thing or what!!?, such a beautiful stamp set.
My cards is heavily inspired from
Dawn Macvey's
card. I used Hawaiin Shores as a base for the card, layered it with Summer sunrises with a lill dash of Raspberry Fizz, I AM IN LOVE!, Thank you Dawn for this beautiful card!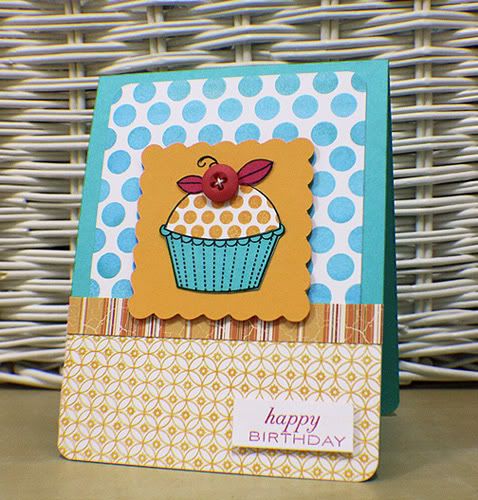 Thanks for Lookin!
Supplies (All PTI except noted):
Stamps: Baby Button Bits, Background Basics: Dimond, PDB II.
Ink: Summer Sunrise, Hawaiin Shores, Rasberry Fizz, True Black.
Paper: Hawaiin Shores, Summer Sunrise, SS White, Autumn Abundance pattern paper.